Over the Down
About halfway up climb up onto the hedgebank for a sweeping view of Denbury village including the Manor, the Church of St Mary the Virgin and, not least, the village green which stands in front of The Union Inn, our village pub.
At the top of the hill go through the gate into the wood which crowns the Down. Buzzards are often soaring here in pairs - their cries ringing over the countryside. A few yards inside the gate turn left along a huge ditch.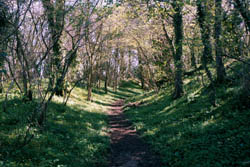 This is part of the fortifications of the Celtic hillfort believed to have been the last point of resistance of the Dumnonii against the Saxon advance into the region. The Saxons called them "Defnas" and their fort "Defnas burh" or "fort of the Devon men" (now owned and maintained by Devon County Council, its ownership has come full circle!)
As you walk along, notice that the banks are riddled with badger setts and boltholes: the barrier of excavated earth has probably been occupied by badgers for over a thousand years.
From the top of the banks you can see across the fields to Tornewton House with wide-ranging views across to Ipplepen, a neighbouring village. In season, there are stitchwort and bluebells in a haze of blue. From here, you can readily appreciate the Down's value as a defensive base and a vantage point over the Teign estuary and surrounding countryside. But there's more . . .