Up the Down
To walk up and over Denbury Down, go along West Street and enter by the track opposite Denbury Down Lane. This track is not a right of way though the owner does not raise objection to people using it.
About a hundred yards up the path you will pass a soakaway which marks where the path crosses a spring line that runs round the Down. Springs emerge along this line at many points and in Spring there are primroses in the hedgebanks.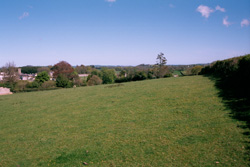 In the field to the left is a large underground reservoir which was part of the old mains water supply to Denbury. An earlier water supply, fed by springs, ran from the Down and was piped underground via Denbury House to a storage cistern which still stands at the village centre. From 1937 this was filled up overnight by a four-inch main from this field until it overflowed into the horse trough, now a seat in front of the War Memorial. Finally the water would pour into the gully surrounding the trough and run away into North Street. The stone structure which carries the War Memorial is still known as "The Cistern" by Denbury people.
The path turns right for about forty yards. Where it turns left again, look back and see the village laid out behind you. The Teign Estuary can be seen in the background, covered with a band of cloud. Big download but worth the wait!
A narrow track to the right runs down to Norden (North-down) Farm with spectacular views of Haytor and Dartmoor in the distance. Turn sharp left and carry on up the flank of the Down . . .